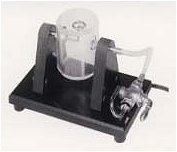 The WACO End Panel Holder can be used with any WACO Enamel Rater to test for metal exposure on can ends. The test is performed in the same manner as on a can. Electrolyte is added to the plastic cup, the can end is fitted onto the beveled end of the cup, and a vacuum is applied to hold the end securely on the cup.
When the cup is inverted, the elctrode and can end become immersed in the electrolyte and the reading is displayed on the Enamel Rater.
The WACO End Panel Holder consists of a lucite cup mounted to rotate on its horizontal axis. The cup is beveled to make a tight seal on the can end. An electrode and vacuum connection are mounted within the cup. On the bakelite base a vacuum stopcock and a moveable contact arm, which completes the electrical circuit when the assembly is inverted. A cable adaptor footswitch (#10788-17) is required to connect a WACO End Panel Holder to the WACO Digital Enamel Rater III.
Specifications
Net Weight:
3lb
Shipping Weight:
4lb
Dimensions:
8"l x 5"w x 6"h
End Size
Catalog No.
200
10786-18
202
10786-01
204
10786-20
206
10786-02
207.5
10786-03
209
10786-04
211
10785-00
300
10786-05
303
10786-06
307
10786-07
401
10786-08
404
10786-09
603
10786-10
610
10786-61
Other sizes available through special order. Please call or write with your requirements.